Roll over image to zoom in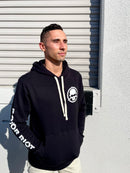 Description
Join Kwad Crew and SAVE BIG on THIS PRODUCT! Check out special December Coupons exclusively for Kwad Crew Members. Join Kwad Crew Here
$300 Off HD 5" Drone Starter & Transition Kits, Coupon Code: KC-DEC-BFCM300
$100 Off HD Skylite Starter & Transition Kits, Coupon Code: KC-DEC-BFCM100
30% Off Avatar Built & Tuned Drones, Coupon Code: KC-DEC-BFCM30
25% Off DJI Built & Tuned Drones, Coupon Code: KC-DEC-BFCM25
30% Off Rotor Riot Merch, Motors & Frames, Coupon Code: KC-DEC-BFCM30
15% Off Storewide, Coupon Code: KC-DEC-BFCM15

Get recognized with our brand new Rotor Riot Pullover Hoodie!
Revolution Printing Custom Apparel
80% Cotton
20% Polyster
A bit overpriced
The quality is ok, but it seems is not going to age well.
Payment & Security
Your payment information is processed securely. We do not store credit card details nor have access to your credit card information.
Other pilots also purchased